NEED AN ESTIMATE
Thank you for contacting Commonwealth Construction, a representative will contact you shortly.
---
Signet Fiberglass Doors

Signet Fiberglass Doors
Signet Fiberglass Doors
Signet Fiberglass Doors
Signet Fiberglass doors are available in Cherry, Mahogany, Oak and Fir Series. Structurally, the Signet door is far superior to traditional fiberglass doors with robust hardwood stiles and rails dovetailed at each corner. All Signet Fiberglass doors exhibit our exclusive DuraFuse Finishing System featuring P3 Fusion, allowing us to offer an industry-best 10-year* finish warranty.

---
---
---
---
Measurably improve thermal performance with our ComforTech Warm Edge Glazing System. Every ComfortTech glass package features a NO-METAL spacer between the panes of glass and gas filled cavities that provide you with highly energy efficient glass and a warmer glass edge.
What is Colar Heat Gain? (SHG)

SHGC is a measurement of how much of the sun's heat is transmitted through the window or door.
It is best described in terms of a ratio; where one is the maximum solar heat gain that comes through a window and zero is the minimum. A window that has a SHGC of .3 will allow 30 percent of the sun's heat to pass through.
What is DWT?
The DWT (Damage Weighted Transmittance) measures fading risk for furnishings and other materials. DLA-UV is 43% better than clear glass and 23% better than DLA.
DWT is calculated according to a function called Tdw-ISO, developed by the International Standards Organization and published by the International Commission on Illumination (CIE), the world's leading technical organization on light and illumination. The Tdw-ISO calculation measures fading risk from solar radiation across the entire solar light spectrum, from Ultra-Violet light through visible light. According to the CIE standard, which is considered more comprehensive than Ultra-Violet rating alone, our UV glass packages can minimize fading damage across the entire solar spectrum more effectively than glass designed primarily to block Ultra-Violet light.
All calculations based on 7/8" thick, double glazed, single strength IG units using NFRC (National Fenestration Rating Council) methodology with Lawrence Berkeley National Laboratory's Windows 5.2 software.
NFRC is a non-profit, public/private organization created by the window, door and skylight industry.
NFRC's primary goal is to provide accurate information to measure and compare the energy performance of window, door or skylight systems.
Other Glass Options:
Triple Glazed High Performance Low-E Argon or Krypton Glass
Inspirations Art Glass
Obscure Glass
Double Strength Glass
Tempered Glass
Tinted Glass in Bronze, Gray or Green
Azurlite Glass
The style and feel of wood without the worries
Our advanced nickel vapor deposition technology allows us to create the beauty of wood with the strength of fiberglass. With four different wood series available, Signet doors make a timeless addition to your home.
---
Beauty made by hand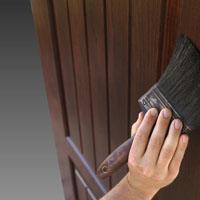 The hand-applied finish really is the finishing touch to Signet Fiberglass Doors. This level of beauty and consistency can only be achieved by professional craftsmen who have hand-stained thousands of entry systems.
---
The details make it distinct
Signet Fiberglass Doors high-definition panel profile gives your door pronounced shadow lines and prominent panel designs.
---
A beautiful appearance at every angle
All Signet Fiberglass Entry Doors are built with real-wood door edges that match the face.
---
The little things make a big difference
All Signet Fiberglass Entry Doors have dovetailed stiles and rails, making the frame solid and strong. Plus, those stiles are either 2 5/8 finger-jointed three-ply hardwood hinge stiles or 4 finger-jointed four-ply hardwood strike stiles, providing superior structural integrity.
---
The security of added strength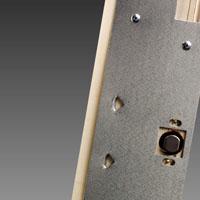 Our 20-gauge security plate delivers extra strength to your door, helping prevent kick-ins and other damage.
---
Bottom rails at the top of their game
The high-performance composite material used in all Signet Fiberglass Doors provides unrivaled rot-resistance, allowing your door to look new and stay durable for years.
---
Two sides to every story
Tell the story you want, both inside and outside of your home. With Signet doors, you can order one series, style and finish on the exterior side of your door and a completely different series, style and finish on the interior for true customization of your home.
---
Off-the-rack isnt always on target
Not every home has standard entry widths and heights. Signet doors can be customized to fit your space perfectly. Door and sidelite widths and heights can be customized in 1/8 increments and with heights up to eight feet.
Go Back